Spencer Peterman Woodworking
Spencer Peterman is always on the lookout for fallen trees rotting in the woods. He gets excited about this kind of stuff. So do his customers. Hidden in those fallen trees — especially the ones covered by moss and dirt — is wood disfigured by the beginnings of decomposition. Turning that wood on a lathe produces strikingly unique bowls, perfect for your home or showroom.
Almost all the wood we get is from locally fallen trees in Western Massachusetts, such as maple, cherry or black walnut. The maple bowls are figured by the decomposition and aging of the wood, which we call "ambrosia" or "spalted."
All our bowls are food-safe. They are dried down to 6% moisture. The spalted bowls can make the maple more soft but we don't send out the ones that are not functional. They are meant to be used for food. They are treated with bees wax and mineral oil for food safety and to keep the wood from drying out.
It is hard to determine how long it takes to make a bowl. After getting the logs, which is a workout in itself, the logs have to be cut into 2 foot lengths and the lathe cuts out a set of bowls from 9 inches to 21 inches. From there they are taken from the mill to the shop where we do all the fine sanding and finishing work.
Burls are like tumors on a tree. We cut them off a living tree. It actually probably helps the tree because it's not healthy for a tree to grow burls. They are totally food safe and have their own characteristics. They're burly! What can we say? They are rough edged with quilted patterns, subtle cracks and crevices in the wood. We sell only cherry burls, a hard wood.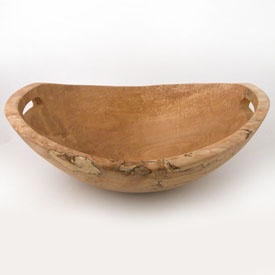 Harvest Bowl
Harvest Bowls are available in 15", 18", and 21" sizes in Cherry, Walnut, and Spalted.
Serving Boards
Peterman Serving Boards are Cherry and Walnut and in 2 sizes